Align Your Teams with Briefings

Share business, market, product, and domain information to provide insights for your teams' deliverables.
When I first started in product management, I was led to believe that developers were factory workers; I was just supposed to tell them what features to build. But the more time I spent with the product team, the more I saw their interest in all aspects of the product—revenue targets, promotional plans, and recent big deals. That's what a team briefing is all about.
I like to brief each team—development, marketing, sales, and others—on the business of the product. After all, good teams are like good parents; they're involved in their children's lives. Like a periodic parent/teacher meeting, the product manager or business owner should sit down with the team to explain the business aspects of the product as well as the plans for the future.
Just as we use a retrospective to review what we have done and how we can improve, a team briefing looks forward at what we have planned and how we'll measure success.
A team briefing occurs quarterly and at the beginning of a new release or launch planning cycle.
The Under10 Business plan used in our workshops is a good foundational tool—walk through each item with explanations as well as any concerns you have about each aspect of the business.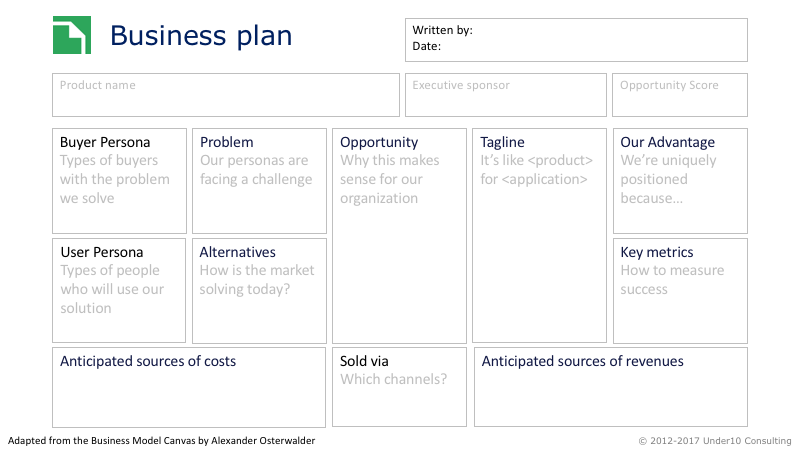 During and after the walk-through, allocate plenty of time for questions. In some cases, you won't know the answer but don't make anything up. Instead, use the old sales engineer's line: "I don't know but I'll find out."
A team briefing is one of the ways to empower your team members to use their judgment. They won't need to come to you for daily assistance if you're clear on the who and what of your business plan.
Need help creating a business planning tool that's as unique as your organization? We can help adapt our methods and templates to your products and services. Contact us today.