Book review: The Secret Product Manager Handbook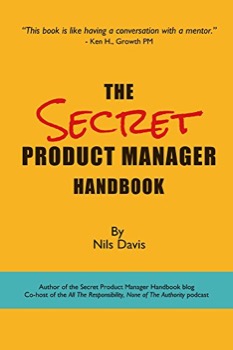 Long time followers of my writing know the fundamental mantra of product management: "Products Solve Problems for Personas."

In The Secret Product Manager Handbook, my friend Nils Davis offers a similar view: We find market problems, create solutions to those problems, and take the solutions to market. The book guides you through all three parts of the framework with tools and techniques for getting it done.
Along the way, Davis introduces the role of product management, learning how to really listen, and how to communicate what you've learned from the market to your development, marketing, and sales teams. Loaded with examples and specific techniques, the book offers guidance in prioritization, roadmapping, and value proposition design.
Readers of Turn Ideas Into Productswill find familiar concepts and also some new ones—as well as tips from someone who's been there, doing the work for years and years.
If you're new to product management, this is a good place to start.
Remember: the customer is the ultimate decision-maker.
I've described a nimble planning process in my book,
Turn Ideas Into Products
, available from Amazon in print and Kindle format.