Learning is the Core

Research shows almost 50% of companies lack a formal product life cycle process. A lot of success is attributable to individual heroics in spite of the company's process (or lack of).
I've described a nimble planning process in my book, Turn Ideas Into Products, available from Amazon in print and Kindle format. Fundamentally, the idea is to limit the number of artifacts to less than 10, and refine your communication with a limited number of reports and presentations.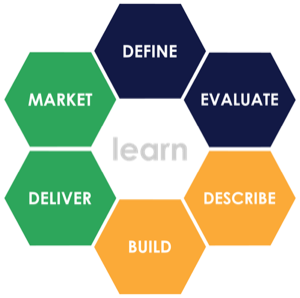 The process for building products is not a line. The ideal process is a wheel with learning at its hub.
DEFINE and EVALUATE are business activities; DESCRIBE and BUILD are technical activities; DELIVER and MARKET are go-to-market activities. And each of these steps requires learning about the market and its problems.

The thing is, we rarely begin at the beginning (DEFINE). Product Managers start anywhere along the wheel but still must articulate the foundational information: the product basics plus personas, and their problems. Read more about the Under10 method here.
Products like
Under10 Playbook
can help. It provides tools to automate the approach defined in
Turn Ideas Into Products
.
Agile methods brought us the retrospective, which is supposed to help refine your internal processes. Extend your retrospective to include refining business and marketing plans as well as your processes.
Learning should be at the core of any product management model.
And in general, you don't learn much on sales or support calls. These are more about selling or solving, not discovery. What are some of the ways that product leaders learn? Win and loss analysis, phone interviews, customer surveys, as well as analyzing product metrics.
Learning is a continual process. Is learning a component of your weekly deliverables?