What a return policy says about your marketing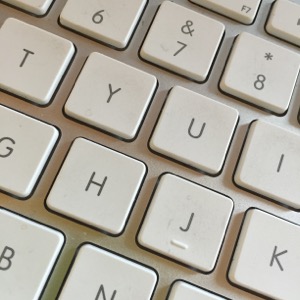 Quality is when the customer returns and the product doesn't.—Jim Taglieber, Miami Valley Steel Service Inc.
Suppose you have a bad keyboard. The thing works but the lettering is faded or one key doesn't work correctly. You want to get it fixed but you don't want to be without it.
My laptop keyboard broke. I called the manufacturer who was quite helpful. She quickly gave me a return authorization and even sent me a prepaid label for shipping. But… I was without my laptop while it was being fixed. Through a series of misadventures, it ultimately took six weeks (that is, six weeks without the computer) to get it repaired. I had to buy a new computer so I could continue working. So, a mostly good vendor experience with very friendly and helpful people. But not a good customer outcome.
My son has some wonky keyboard-y thing for his recording studio setup. While cleaning the keyboard, some of the lettering was erased. He called the manufacturer who sent a replacement keyboard and asked him to send the old one back when it was convenient.
Same nice people but a much better customer outcome.
What's your process for handling returns or refunds or customer dissatisfaction?
One process
Call us for return authorization
Package the return using the original box if you have it or purchase a shipping container.
Return the equipment (at your expense)
Wait until we receive and process it
We send you a replacement or a refund.
Another approach
Call or email us with your problem
We send you a replacement or refund to get you productive again
You send us the old equipment using the shipping materials we provided
If you don't return the old equipment, we'll bill you
The first process is designed around the vendor's internal operations. It's easier for vendors to run a serial process. It's event driven. This happens, then that happens. And the onus is on the customer to keep things moving.
The second approach is designed around the customer's productivity.
(Doesn't that sound better?)
Do you ask, "How can we get the customer productive again?"
Or do you ask, "How do we reduce our risk?"
(Or said differently, do your processes assume the customer is a criminal?)
In a transactional business, you want a customer to make future transactions. Even in a one-time purchase business, even if you won't get more from that customer, don't you want to him or her to say nice things to friends about your product?
Customers are actually quite forgiving. They understand that mistakes happen and sometimes there are quality problems. But customers have limited patience with your internally-focused processes. Take a look at each step of your delivery and ask, "Is this best for our customers?"
Your goal is to get your customers productive as quickly as possible.
Is this the responsibility of product management? Yes, if you're looking beyond the product.