Behavior Drives Pricing Drives Behavior

To create value for your business, you need to create value for your customer.Alex Osterwalder, author, Value Proposition Design
Many product teams approach pricing from a cost standpoint. They ask, How much can we charge to cover the costs of development, marketing, sales, and delivery?
Pricing experts agree: your buyers don't care about your cost. Buyers care about value.
Your costs and revenue plans are irrelevant to your customers but, of course, they're quite relevant to your business case—if customer value is less than the revenue you can charge, you have a flaw in your business model, not a flaw in your pricing.
Example: Washington Post
I'm interested to see that newspaper subscriptions are on the rise. In the world of too much information (and too much "fake news"), many readers are looking for a reliable source and are willing to pay for it. That is, they are skipping the "free" news and seeking information from sources that can be trusted.
A traditional way of thinking would be to charge only a little for the online news (where costs are less) and a lot for the printed newspapers (where costs are more). Looking at the pricing for the Washington Post, I'm intrigued to see the various pricing plans ranging from $40 to $150 per year.
Printed newspaper delivery reduces the cost of annual subscriptions.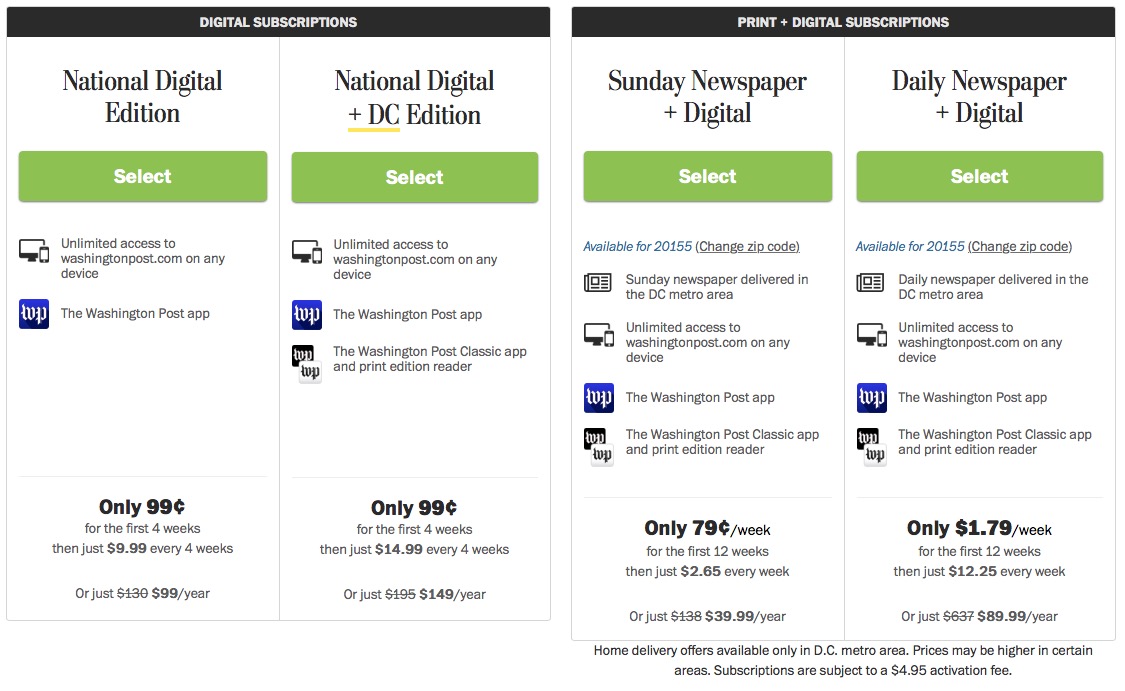 The "National Digital Edition"—the digital-only package—is $100 per year. Add delivery of the Sunday paper and your subscription cost is reduced by $60.
Actually, two things are happening here. the Post is getting advertisers to subsidize the Sunday paper, reducing readers' costs in exchange for advertising. In effect the printed newspaper is a bunch of ads interspersed with articles.
The other thing is they have priced the packages in a way that the only logical choice is to buy the $40 bundle, even if you don't want the printed paper. (I'm currently thinking I'll just dump the paper in the trash unread but I may decide to read the comics). By encouraging me to buy the bundle, they can claim increased readership for the advertisers.
They have priced the bundles to encourage a specific behavior.
Example: Under10 Playbook
Here's another example of how behavior drives pricing: The Pro plan for Under10 Playbook is for individuals; the team plans are for companies.
For a solo product manager, there's value in having all product information in one place—even more so for consultants working with multiple clients. However, the value of the Under10 Playbook software increases with team use, providing sharing of common artifacts plus consistency across all products. Teams can share personas, assign product stories and market plans to other team members, and integrate roadmaps with multiple products and launches.
Our clients receive (and perceive) more value in the team plans than the plan for individuals, although our internal costs remain the same. Our pricing reflects customer perception, not our internal costs.
So should yours.
What behavior are you trying to encourage with your pricing model? Create options that align with buyer behavior.