Why Your Organization Cannot Innovate

There's something about the whole analytical mind-set that effectively drives the ability to innovate out of the building.Fred Gluck, managing director of McKinsey & Company
Executives are extremely dissatisfied with their organization's innovative performance but most firms seem to hate innovating. Does yours?
In 2016, McKinsey reported that 84% of executives see innovation as extremely important but only 6% are satisfied with their organization's innovative performance. Why the disconnect?
Perhaps Marty Neumeier has the answer. In his book, ZAG: The #1 Strategy of High-performance Brands, Neumeier shares his "good/different" matrix. Some products are good; some are not. Some products are different; some are not.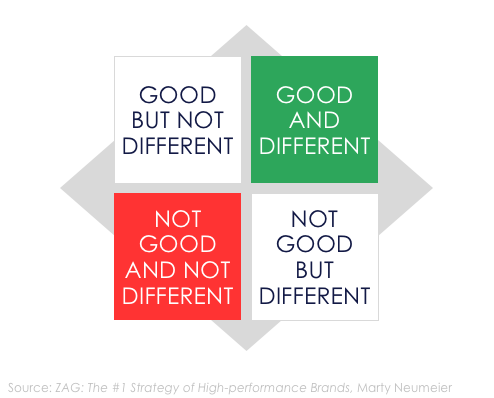 But what's really startling is that "different" is usually seen as negative, at least internally.
Consider the focus on "netbooks" a few years ago. Netbooks sounded good on paper. Both marketers and sales people (not to mention investors) pushed computer vendors to build cheap, underpowered laptops. But ask any consumer: netbooks were neither good nor different.
Netbooks failed; tablets succeeded.
"Good and different" products change the game.
And it's not just products. The good/different conundrum applies to all aspects of product management and marketing.
A few years ago, a colleague was asked to create some new customer success stories. His interviews went so well and his customers revealed so much, he decided to use nothing but customer quotes in the write-ups. The pieces were excellent—the prospects loved the "voice of the customer" approach. Alas, sales people thought otherwise. They hated the quote-heavy pieces. "The new success stories are different than what we had before" was their only complaint.
"Good and different" is hard to sell internally.
Perhaps that's why so many organizations fail at innovation. Almost no one likes "different." Almost everyone likes "good" except when quality comes at too high a price.
Innovation can be applied to packaging and pricing as well as product. But selling it… there's the problem.
After a few times of failing to sell a "different" idea internally, most product managers just give up. "Not different" is simply easier.
Is your organization open to innovation? Or is the "more of the same" status quo the best political answer?
Innovation in one of many popular deep-dive topics offered in
Under10 workshops
, available in onsite or webinar format.