Turn Ideas Into Products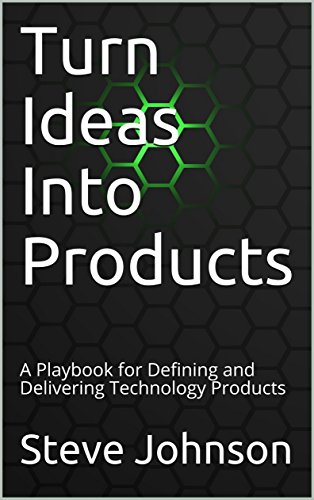 A Playbook for Defining and Delivering Technology Products
We've all heard stories of amazing product successes: the brilliant college kid who started a business in his dorm room; the team who built a business from the back of a napkin with just a few friends and sold it for millions. Yet for every amazing success story, there are thousands of stories of products that went nowhere.
For most of us, we're not looking at billion-dollar valuations; we're not looking for an exit. Instead we have a few ideas — some innovative, some not — and we're trying to determine which to pursue. Likely, you're working for a company today and you need a step-by-step approach to turn ideas, regardless of their source, into businesses.
In his new book, author Steve Johnson introduces a nimble idea-to-market process with strong emphasis on personal experience with customers. From business planning to product launch, this approach for managing products empowers your product team to work smarter and collaborate better with colleagues and customers.
Available in Kindle and paperback from Amazon. Or buy the ePub version via PayPal.
(Not ready to buy? Read an excerpt in Create Your Own Product Adventure.)